I never grow tired of searching for and finding new minimalist options for children. With each new find, I get a little more excited that shoe manufacturers are understanding the increased need for minimalist options for children. ZeaZoo Kids happens to be a new discovery for me. ZeaZoo Kids is a family owned and operated business birthed in Bulgaria. Several generations work together to bring a beautifully, hand-made, quality product. Each shoe is designed to provide the best barefoot experience possible. They even consider the type and location of fasteners to ensure no unnecessary pressure is placed on the foot. We took a closer look at two pairs of their shoes: the Moccasin style boot and the Manga shoe. My two little experts (ages 4 and 2) were very eager participants.
The Manga
Before I go any further, I must say that the Mangas are the most adorable little shoes. My little guy has received so many compliments about his shoes. He wears them with jeans, but they also look adorable all dressed up. I find myself choosing these over other pairs just because they are so cute.
Construction
The Manga is crafted with soft, flexible leather and a 3mm Vibram sole. The shoe can be rolled into a ball in so many directions. The Velcro is soft and flexible, and does not rub or cause un-do tension on his foot. The wool insole is also very thin and flexible which allows the shoe to remain flexible. However, the insole is not attached to the shoe at all. Over time, it pushed forward and became bunched at the toe of the shoe. I was able to pull it out and smooth it flat before each wear. It might be beneficial to make the insole permanent to prevent the sliding around. I was concerned about the quality of construction so I was hesitant to let him to wear them out for hikes. I limited the use to the playground, trips to the grocery store or grandma's house. He soon began asking to wear them all the time so I relented. I have found that they have held up very nicely. The soles do not provide a lot of traction so he did slip on various wet rocks and logs (although this slipping could be attributed to the fact that he is only 2 and attempts to climb anything and everything that the older children climb). The hand stitching has remained intact and strong and the Velcro is still very strong. The leather has stretched out, but this has worked on our behalf (as his feet are always growing), giving him another month of wear time.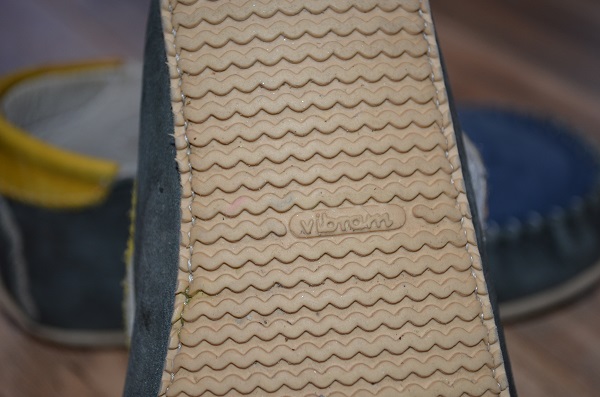 Fit
The Manga runs true to size, but if you are uncertain, they have a very helpful size chart. It explains exactly how to measure your child's foot. Sizing Chart. The shoe fits the shape of a child's foot perfectly. After reading ZeaZoo's website, I found this quote (which describes why the shoes fit his feet so nicely): "our shoes do not form the feet; the feet form our shoes!" There is nothing about the fit that will require your child's foot to change shape or form. They are allowed to set their little piggies in the shoe just the way they are.
The Moccasin Boot
I love these boots, but my love for a boot will not keep them on my 4.5 year old's feet. She is definitely one with her own style and flair lately. She often pairs frilly pink tutus with green leggings, but will refuse to wear anything that "pokes" or is uncomfortable in anyway. She has become my best shoe critic. I do not ask her opinion; I simply sit back and watch how she interacts with her boots. She became instantly attached and wears them eagerly every day (sometimes refusing to take them off), saying, "Mommy I just love my brown comfy boots."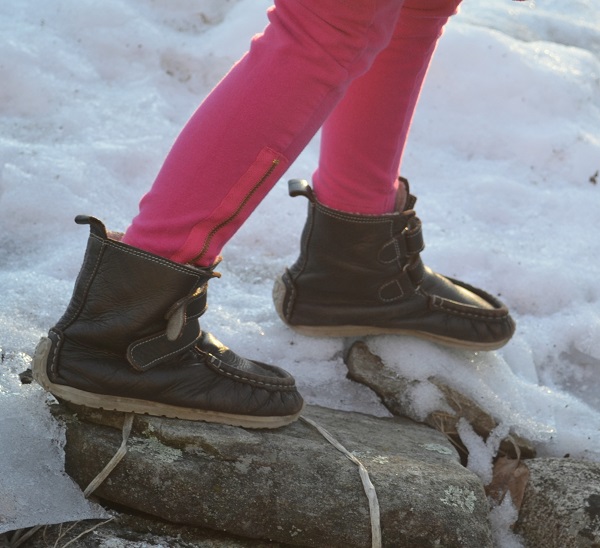 Construction
The boots are also made with leather as the Manga, but it is definitely thicker (and is not suede), adding warmth and stability to the boot. They are also completely lined with wool which adds warmth and comfort (she often wears them without socks because "they are soft mommy"). The boots have a double sole: 3mm of microcellular rubber and a 6mm Vibram sole (you can choose to for-go the microcellular 3mm portion of the sole if you choose to). I find that this sole is necessary especially when the temperatures drop to the single digits. The Vibram rubber has an excellent pattern, providing much better grip in slippery situations. Detail to comfort has not been compromised in the construction of the boot. There are no seams or edges that press on her feet or cause any discomfort. The Velcro closure makes the boot easy to put on and take off. The Velcro is solid and well stitched, but I found it a bit long. Her feet tend to be on the narrower side which left a lot of excess curl at the end of the Velcro. This does not inhibit the shoe in any way; it simply affects the overall "look."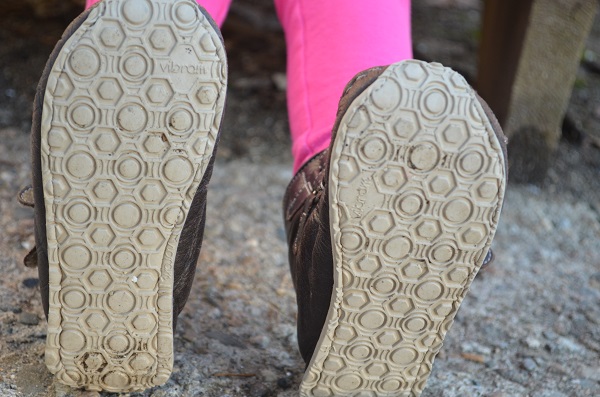 Fit
The Moccasins also run true to size and provide her foot a place to be itself rather than conforming to a boot. Style The ZeaZoo line is full of style. Each type of shoe they offer (sandals, shoes, or boots) is available in multiple colors with various appliques from Santa to stars to little hearts. The website (http://www.zeazookids.com/shop/) and their Etsy Shop (https://www.etsy.com/shop/ZeaZooKids) have beautiful photos of their hand-made shoes. You can also customize your own pair of shoes, making them just a little extra special for your little one.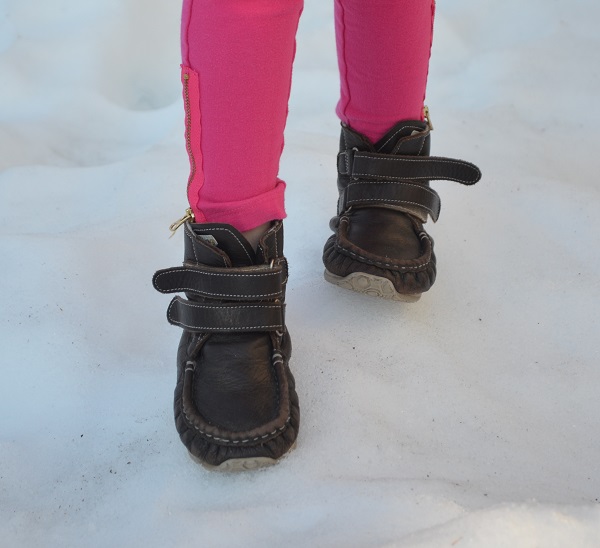 The Verdict…
Intentionally made with little feet in mind: durable for the outdoor play that little ones yearn for; sweet style for mamas and older children to appreciate, and a fit that lets their little piggies move freely.