When I first encountered Soft Star Shoes, I was smitten. Based in Corvallis, Oregon (near my childhood hometown), Soft Star has been hand making shoes for over 20 years. They use only USA sourced leather and kid friendly food grade dye. Who doesn't love a local (for those in the United States), handmade shoe? A shoe intentionally made specifically for the customer. If you are in the area, you can even make a stop and see how it is all done.
When browsing their website, I was excited by all the color and design choices. There is even a space for customers to submit photos of their own, personally designed shoes. So if you're stuck and don't know what you want to order, you can browse through other customers' photos to gather inspiration. Add a little bit of this, a splash of that, and you have your personally designed shoe, handmade for you or your little one.
When the biggest of my little ones found out that she was getting a pair of Soft Stars, there was great exclamation in our house. My children have been ogling over Soft Star shoes for a couple of years. There is something thrilling about designing their own shoes then wearing them with pride. Naturally, there was no lack of excitement and energy as my daughter poured over the website choosing colors and patterns.
"Mom, I love this, but can I get it in green instead? It's so fun to have so many colors to choose from!"
We ordered the Youth DASH RunAmoc Lite with the trail sole because we spend so much time running around outside, climbing trees, scaling rocks, and balancing on logs.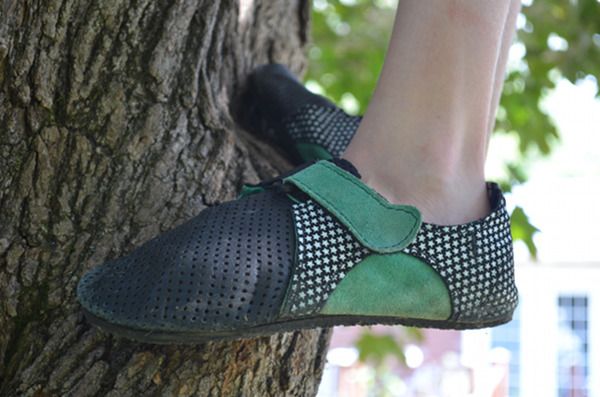 When they arrived, my daughter loved them at first sight. She was drawn to the colors and the design. Many of her friends have also commented on how "cool" these shoes are. She was, however, not overly impressed with how the shoes felt on her feet. She is used to being completely barefoot or wearing Vibram Five Fingers. She describes the feel as "walking on a stiff board." The sole is probably the most inflexible of all the minimalist shoes we have in our house.
About the Sole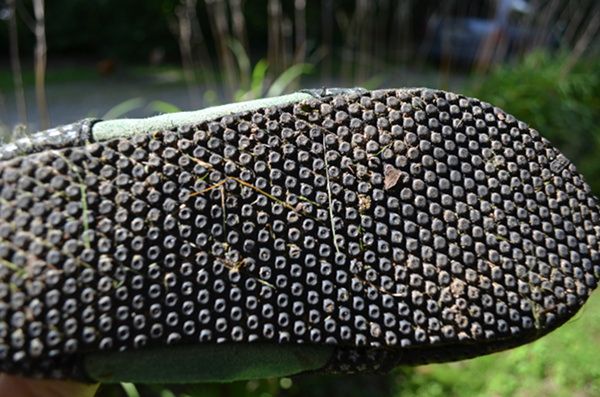 Soft Star chose a quality Vibram sole for the DASH RunAmoc Lite, but it was not the right sole for this particular shoe. A trail sole does not have to be rigid to be effective. I think Soft Star has a great concept that would be a perfect outdoor play shoe for any kid if they could match the sole to the upper a little better. They do offer a standard street sole (2mm thick as opposed to 5mm thick) which might be a better option. This will only benefit the shoe if it is made of a more flexible rubber. Otherwise, the child will get the same walking-on-a-board effect.
The sole did not offer any extra traction either. There was no increased gripping for climbing or hiking. This was due largely to the fact that the sole is so stiff and the tread is all one level and, when wet, very slippery. My daughter felt like she had to step a little more carefully so as to not slip and fall. There just isn't the opportunity to run freely with a slippery sole.
About the Uppers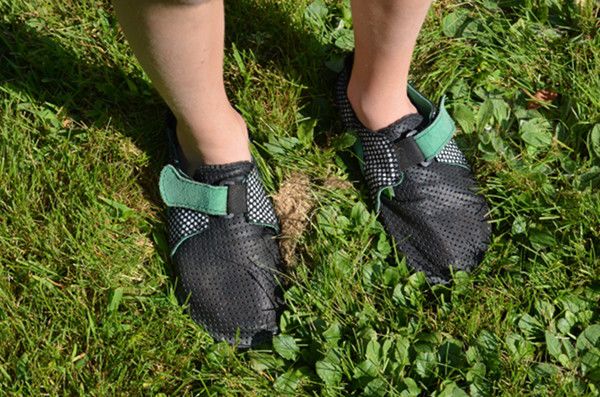 The uppers are 100% leather. They were very tight across the top of my daughter's foot when we first received them, but they stretched out considerably and are now very comfortable uppers. This is important because we almost returned the shoes, assuming they were too small. Upon closer observation, we realized that the length of the shoe was perfect; the leather was just new and tight. So order your child's regular size and wait for the leather to relax a bit. The leather is now soft, breathable, flexible, and fun with bright colors and patterns.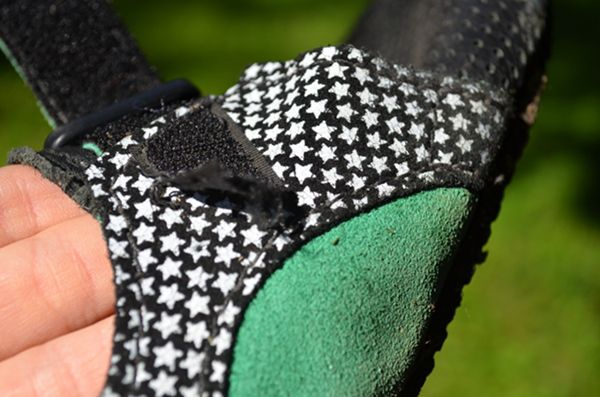 I have noticed that the stitching along the Velcro closure has not been very durable. It began coming loose after the third wear and continues to pull away from the shoe. I can see two factors contributing to this:
The strength of the Velcro. The Velcro is very strong which adds to a more secure fit over the top of the shoe. However, my daughter has to pull extra hard to get the Velcro un-done which contributes to loose stitching. The force of pulling is putting un-due stress on the stitching that is holding the Velcro in place.
Lightning fast little hands. My daughter does not want to slow down to put her shoes on. The Velcro closure is much faster than laces, but she wrenches that Velcro as quickly as she can in order to get out the door as fast as she can. The stitching cannot seem to hold up to the movement that happens as she is opening and closing the Velcro.
Other than the loose stitching around the Velcro, the construction of the shoe has exceeded my expectations.
Cost
Cost is always a factor when evaluating a child's shoe. One of the first questions parents ask me is: "How much did they cost?" Parents want an affordable shoe that will last until the season changes or until their child grow out of the shoe. The Soft Star Youth DASH RunAmoc Lite starts at $78 and goes up from there, depending on the foot size of your child, or if you decide to design your own. I find this price tag a little on the expensive end of children's minimalist footwear, but the shoe is handmade. We pay extra for a handmade shoe. I would put all my children in handmade shoes if I could manage it.
In Conclusion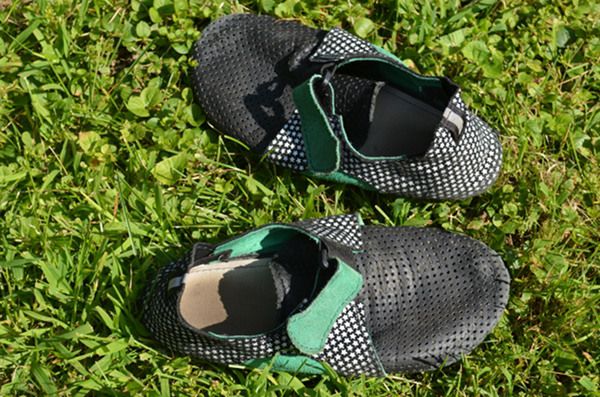 My daughter's perspective: My daughter doesn't care that the Velcro stitching is loose (I am pretty confident that it will hold up until she grows out of these shoes). She cares that the colors are fun, the uppers are super flexible, and that they are made of leather making them kind of like moccasins. She still wears them even though the sole is very rigid.
My perspective: I love the design, the colors, and the fact that the shoes were made in the United States near my childhood stomping grounds. There is something familiar about them; something fun and exciting. I am a little more hesitant to give them a rave review because of the sole. I found that it was not as minimal as I was hoping for. I have always heard wonderful things about Soft Star, and so I am hopeful to see what kind of sole they put on the DASH RunAmoc in the future. They are committed to making shoes that contribute to healthy foot movement while protecting the foot from the elements. I think that the DASH RunAmoc Lite is a good first step in the process of making a great minimalist trail shoe for kids.