There are a few companies now that make toe socks. They are from the US, the UK, Finland and Japan. There is also a small company from Lebanon that makes toe socks. They are called Gotena and they have a few very nice models, like their new waterproof toe sock. Waterproof? Yes, you read it right. They offer a waterproof toe sock. It will combine perfectly with your Vibram Fivefingers or tabi shoes for wet or cold weather activities.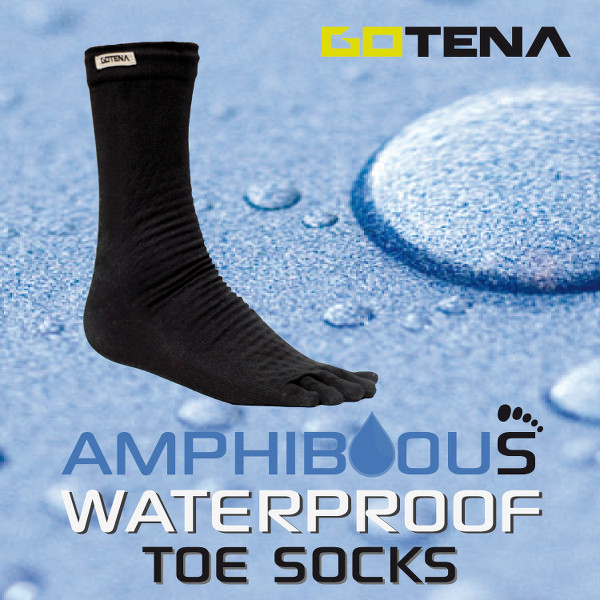 Gotena works a lot with cotton (80%) combined with spandex (17%) and elastane (3%). With this material mix they offer a few very thin toe socks and a thicker compression sock. They also have a thick Merino wool toe sock made of Merino (80%), spandex (17%) and elastane (3%).
The waterproof toe sock which is called the AMPHIBIOUS5 also has an inner lining made of mainly cotton (80%), nylon (15%) and elastane (5%). The waterproof and breathable layer is called Hipora and the outer layer is made of 90% polyester and 10% elastane.
Unfortunately the AMPHIBIOUS5 will not be available before next fall. At this moment Gotena is enhancing the current model with easier fitting and more comfortable toe pockets. They will add a heel to the sock and there will be three sizes (M, L and XL). The current model has one size and no heel due to its four way stretch material. Gotena will also produce a tabi sock and a traditional sock without separate toe pockets.
The AMPIBIOUS5 will cost $32. Order via their website.