For my 3 year old, half the fun of puddle stomping is the boots. A rainy week; mud puddles everywhere, and she is spending as much time outside in the water as she can. She is not particular about her puddles; they all get equal splashing time. Although, the bigger puddles elicit more squeals of delight with the water inching up over the top of her boots then filling the inside, emitting an intense squish-squish as she races from puddle to puddle. After all the puddles have been exhausted, she sits down on the front steps, pulls off one boot, tips it, and laughs as the water drains out onto the steps. Giggling she exclaims, "Mommy, look, my barefoot boots have puddles in them!"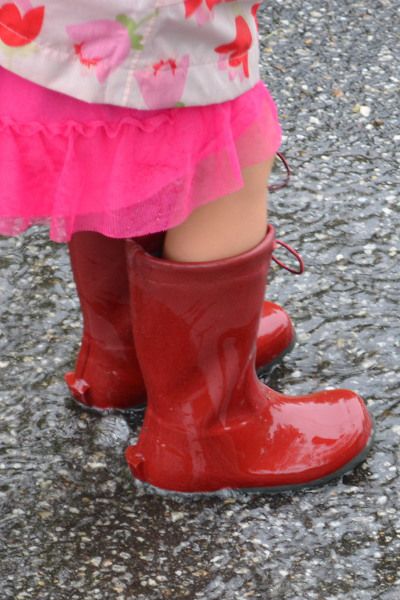 Why Do My Kids Wear Rain Boots?
My children do not wear rain boots to keep their feet dry. They wear them because I want to protect the bottoms of their feet as they go crashing, stomping, and jumping through mud puddles with unforeseen rocks and sticks. They wear them because I want them in a shoe that is going to dry quickly with minimal unpleasant odors. My children don't care much about any of this, though. They wear rain boots because they are fun, bright, and exciting!
The Benefits of the Waterloo
My daughter loves her VIVOBAREFOOT Waterloo boots (currently only available in Europe). They are her favorite shoes right now. She has a shoe fetish, and these shoes are not only comfortable ("they are barefoot, mommy"), but they are "fancy" as well. They are an exciting accomplice to her puddle stomping.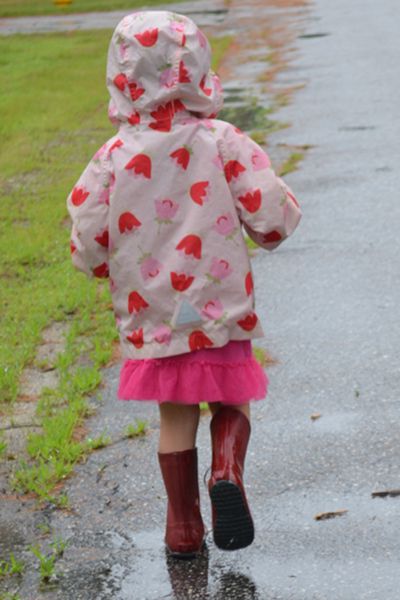 I like these boots because they are the first "rain" boots that I have seen that can function as both a rain boot and a colder weather mud boot.
They are warm – Being lined with a thin layer of thinsulate extends the Waterloo wear time from a one season shoe to a multi-season shoe. They are not warm enough for cold, snowy winters but will definitely do for any autumn rain/mud that we may get. The thin lining does, however, increase the insole drying time. The boot does not dry as quickly as a boot with a simple rubber insole/lining.
Waterproof – Yes they are truly waterproof. The only inlet for water is through the top of the boot after some intense puddle stomping.
Construction – The rubber wellington sole is 6mm thick, offering protection without inhibiting the connection she has with the ground. This sole offers enough traction for any slippery puddles or mud. The 3mm Dri-lex insole is removable. The shoe is durable, shows minimal signs of wear even after much abuse during and after rainstorms. The seams are smooth and well stitched. The toggle fastener is a nice idea but does not really tighten the boot. However, it is fun practice for a young child to learn how to use the toggle. The function of the boots will not be compromised if the toggle falls off and is lost.
Minimalism – VIVOBAREFOOT already has a good reputation for zero heel elevation, a nice wide toe box, and a minimal sole. The Waterloo is no exception. It is super flexible from top to bottom. There is nothing pressing on her feet to hold them back from naturally moving or wiggling.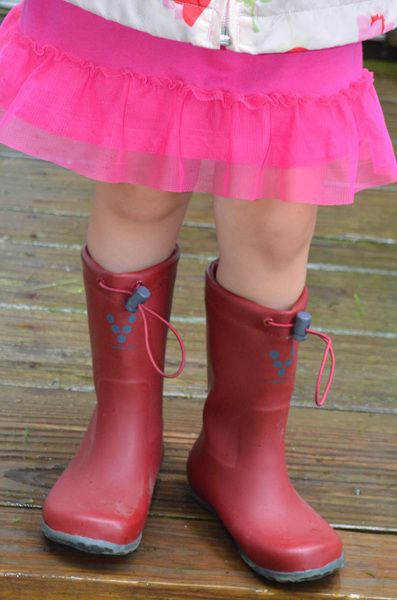 As an adult, I look at shoes as a tool; my 3 year old thinks shoes are fun. She doesn't care if they are a tool; she wants them to be pretty and comfortable (even when puddle stomping). She loves the VIVOBAREFOOT Waterloo... loves them so much that she wants to wear them everywhere, even when it is 80 degrees outside.