I hope you all have had a great Christmas, we certainly have. This weekend we have friends coming to visit and we will be heading out for a three day backcountry ski trip with them in the Chic Choc mountains. Yep, big clunky, plastic, non-anatomically correct (the antithesis of minimalist footwear) boots and a whole lot of slip-sliding fun!
We will be a little light on content here this week, but if you are looking for some good reads, we have recently published two guest posts on other blogs that you might be interested in reading. Both of these articles are related to lightweight backpacking, released in conjunction with our upcoming Appalachian Trail thru-hike.
An article Renee wrote on the GoLite Meaning of Lite blog.
Having never backpacked until my mid-thirties, it was the lightweight philosophy and techniques that convinced me backpacking was within the realm of possibility for me – a mother of three. It wasn't an activity just for young single folks...
An Article Damien wrote on the Gossamer Gear blog.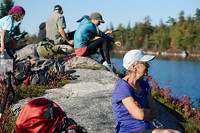 The second weekend in October marked our first-ever three-generation backpacking trip. It was a short overnighter in Nova Scotia's Bluff Wilderness area, a small network of trails just south of Halifax. The trip was a mini-shakedown for testing some new gear for our upcoming Appalachian Trail thru-hike. It also served the purpose of highlighting to Renee's parents the importance of lightweight backpacking...